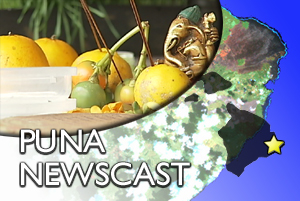 By David Corrigan and Stephanie Salazar
FILE video is from  an unrelated food event held at Kalani in 2008
SEAVIEW, Hawaii: The Kalani Oceanside Retreat, located near Seaview in lower Puna, hosts the Puna Chefs' and Farmers' Culinary Festival, beginning this weekend…
The home-grown cuisine of Puna will be on display starting with Saturday's Opening harvest festival and featured chef dinner.
Then, continuing throughout the week there will be a number of farm and garden tours, culinary classes, and of course, being that its at Kalani… various ecstatic dance episodes.
The feature dinner is scheduled for Thursday at 6 p.m. … the guest chef will be Mark Ceranski, who has served as an executive chef for a Saudi Prince, a Formula One team owner, and countless British dignitaries.
The event culminates on Friday, October 28th with "The Last Supper – Murder Mystery Dinner" from 6:00PM to 9:00PM.
Feature chef and local celebrity Stewart Blackburn will present a delicious slow-food dinner, made entirely of local food and produce. And then, he will be callously "murdered," sending guests on a mission to find the culprit.
Kalani is a 501(c)(3) charity, and this event is a fundraiser for Kalani's Hawaiian culture programming, which is offered free to the community.