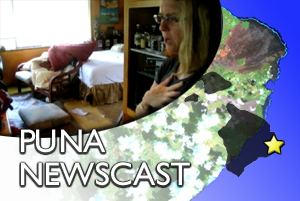 By David Corrigan, Charlie Hazelton, and Stephanie Salazar
HAWAIIAN PARADISE PARK, Hawaii: It was a violent weekend in Puna, as two incidents on Saturday in and around the Hawaiian Paradise Park subdivision have left residents shocked and shaken.
First, a shooting on Highway 130 sent one man to the hospital and prompted a second-degree attempted murder investigation.
Shortly after 2:40 am. on Saturday, Puna patrol officers responded to the Hawaiian Paradise Park subdivision to investigate a report of a victim with a gunshot wound. Upon arrival, police discovered a 36-year-old man with a head wound and determined that he sustained the injury following a brief confrontation involving at least three other local males and a teal colored sedan.
Police learned that the victim sustained the injury when an occupant of the teal sedan shot at him while he was driving on Route 130 in the area of Ainaloa subdivision. Following the incident, the occupants fled the area in the suspect vehicle which is being described as possibly being similar to a Ford Escort or Nissan Sentra.
Fire Department personnel took the victim to Hilo Medical Center, where he was treated for the injury and released.
No arrests have been made in connection with this investigation.
In the second incident… police are investigating what has been classified as first-degree burglary and second-degree attempted murder, in a brutal alleged home invasion in Hawaiian Paradise Park.
Police say they responded to the Hawaiian Paradise Park subdivision to investigate a report of a woman screaming for assistance. Upon arrival, police discovered the 69-year-old woman with severe head injuries and determined that a man forced his way into her home before assaulting her.
The shaken daughter of the victim, Suzanne MacAdam, spoke on camera the next day at the scene of the horrific attack.
According to MacAdam, her mother Mary Davy – who lives alone at her home – was sleeping when she heard strange noises outside her home at 11 p.m.
MacAdam says that's when Davy called her on the phone.
MacAdam retraced the terrible moments inside her mother's home…
Officers from the Puna district converged in the area to assist in the search for the suspect. He was observed fleeing the home upon officers' arrival at the scene.
At about 1:25 a.m., following an extensive search, an 18-year-old Seferin Tilipau was found hiding in a nearby house and was taken into custody.
On Sunday, detectives charged Tilipau with attempted second-degree murder, first-degree burglary and first-degree assault. He is being held without bail pending his initial court appearance in South Hilo District Court on Monday at 1 p.m.
Police have recovered what they believe to be the weapon used in the assault.
Hawaii Fire Department medics took the victim to Hilo Medical Center, where she was treated for her injuries and is listed in stable condition.
The victim's daughter says the suspect is known to her family…
Police are asking that anyone with information about this case call Detective Derek Morimoto at 961-2380 or the Police Department's non-emergency line at 935-3311.
Tipsters who prefer to remain anonymous may call Crime Stoppers at 961-8300 in Hilo or 329-8181 in Kona and may be eligible for a reward of up to $1,000. Crime Stoppers is a volunteer program run by ordinary citizens who want to keep their community safe. Crime Stoppers doesn't record calls or subscribe to caller ID. All Crime Stoppers information is kept confidential.