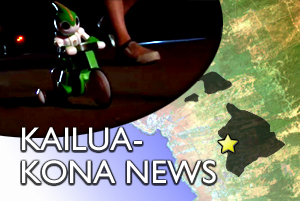 By David Corrigan and Stephanie Salazar, Video from EVOLTA
KAILUA-KONA, Hawaii: This weekend marked the start to a slightly different sort of Ironman competition in Kona, run by an entirly different sort of contestants.
Three tiny robotic triathletes, powered by three rechargeable AA Panasonic Evolta batteries… set out on the official Ironman course – a 2.4-mile swim, 112-mile bike ride and 26.2-mile run – at exactly noon Sunday.
The traditional – human – triathletes get a cut off time of 17 hours. These little guys are aiming to complete the world famous course in 168 hours… that should take about a week.
University of Tokyo associate professor Tomotaka Takahashi and his support crew will stop only to recharge the batteries and do repairs and maintenance… but aside from that, its all up to the robots. The three robots are each designed to handle a certain part of the course. That means a swimmer, a biker, and a runner robot will team up to finish the race that's hard enough for humans.
You can follow the progress of the robots here:  http://panasonic.jp/charge/evolta/challenge/2011/