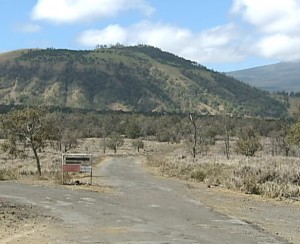 By David Corrigan and Stephanie Salazar
PUU WAAWAA, Hawaii: Hawai'i Island educators looking for a creative, multi-disciplinary environmental education program are invited to participate in a two-day Project Learning Tree (PLT) workshop at the remote and beautiful Pu'u Wa'awa'a Forest Reserve.
The Department of Land and Natural Resources says this special free overnight workshop will take place on Saturday, November 19 at 9:30 a.m. through Sunday, November 20 at 3:30 p.m. This workshop is limited to 20 participants. Lunch and snacks will be provided.
Called one of the most botanically rich areas in all of Hawai'i by early explorer Joseph Rock, Pu'u Wa'awa'a currently hosts a wide variety of native species, some of which are designated as threatened or endangered.
The program is being presented by the DLNR in cooperation with Three Mountain Alliance watershed partnership, Mauna Kea watershed partnership, the U.S.D.A. Forest Service, the American Forest Foundation, and the Hawai'i Nature Center.
To learn more about the workshop and to register, visit http://hawaii.gov/dlnr/dofaw/PLT/2011
From the DLNR media release:
Hawai'i Island educators looking for a creative, multi-disciplinary environmental education program are invited to participate in a two-day Project Learning Tree (PLT) workshop.

This special free overnight workshop will take place in the remote and beautiful Pu'u Wa'awa'a Forest Reserve from Saturday, November 19 at 9:30 a.m. through Sunday, November 20 at 3:30 p.m. This workshop is limited to 20 participants. Lunch and snacks will be provided.

Participants are encouraged to bring a reusable drink container and will receive the award-winning PLT curriculum guide, which contains 96 activities and lessons correlated to national content standards. Because Project Learning Tree is a national curriculum, facilitators will highlight connections with Hawai'i-specific resources, including the 'Ohi'a Project.

"We invite all educators to come learn about Hawai'i's dry forests — the rarest forest type in the world. Bring your students here. Let them feel the sunshine on their faces, let them explore the trees looking for native insects and plant seedlings. Let them breathe in the beauty of the place and listen to stories of the land," said Elliott Parsons, coordinator of Pu'u Wa'awa'a 'Ahupua'a for Three Mountain Alliance.

Join Parsons and others to learn how Project Learning Tree lessons can be adapted to incorporate Hawai'i's unique natural and cultural resources. Special guests include educators Lahela Camara and Emily Leucht of Three Mountain Alliance's environmental education program 'Imi Pono no ka 'Aina, and Cheyenne Perry of the Mauna Kea Watershed Partnership. They will share their knowledge about how our forests, watersheds, and culture are connected and how to integrate these concepts in the classroom.

Pu'u Wa'awa'a Forest Reserve in North Kona is a dry forest ecosystem where students can experience first-hand many of the environmental issues of the day. Called one of the most botanically rich areas in all of Hawai'i by early explorer Joseph Rock, Pu'u Wa'awa'a currently hosts a wide variety of native species, some of which are designated as threatened or endangered.

"Pu'u Wa'awa'a also has a rich cultural history and the landscape is embedded with cultural meaning," said Parsons. "Students of all ages can learn about cultural uses of many of the plants, and the landscape can be read like a book by those who know how to interpret the clues."

"If we are to sustainably manage the ecosystems upon which we depend then it is vital to introduce the younger generations to these areas. If they feel a strong connection to place, then surely they will step up to protect them," stated DLNR Chairperson William Aila. "I encourage all educators to celebrate and learn about this remarkable Pu'u by learning and sharing at the Pu'u Wa'awa'a Project Learning Tree workshop."

This program is presented by the Department of Land and Natural Resources (DLNR) Division of Forestry and Wildlife (DOFAW), in cooperation with Three Mountain Alliance watershed partnership, Mauna Kea watershed partnership, the U.S.D.A. Forest Service, the American Forest Foundation, and the Hawai'i Nature Center.

Participants will stay in rustic accommodations and will be responsible for supplying their own towels, sleeping bag, and sleeping pad, as well as lunch for the first day. Please submit registration information (available on the Division of Forestry and Wildlife's PLT webpage listed below) and $20 registration fee to Michelle Jones: 1151 Punchbowl Street Room 325 Honolulu, HI 96813 or Michelle.G.Jones@hawaii.gov. This registration fee is refundable upon arrival at the workshop. Checks should be made out to the PLT Hawai'i's fiscal sponsor, "Hawai'i Nature Center." To learn more about the workshop and to register, visit http://hawaii.gov/dlnr/dofaw/PLT/2011. To find out more about PLT before the workshop, visit www.plt.org