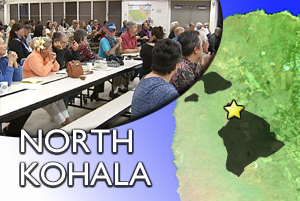 By David Corrigan and Stephanie Salazar
WAIMEA, Hawaii: The Waimea Community Association is spreading the word about its next Town meeting… to be held at the Waimea Middle School cafeteria on Thursday, November 3rd at 5:15 p.m.
Organizers say hot topics ranging from County of Hawai'i Redistricting Commission's controversial draft map impacting South Kohala voters, to Waimea's newly forming coqui eradicators organization, to a more complete update on North Hawai'i Community Hospital, to a briefing on the exciting 2nd Annual Waimea Ocean Film Festival in January 2012 will top the agenda.
As always, all who attend WCA monthly Town Meetings are asked to help support local food pantries by bringing a donation – preferably cash, a check, KTA Sav-A-Tapes and/or Foodland Maka'i My Rewards – or non-perishable food items. Cash or checks are given to Waimea's Annunciation Catholic Church food pantry to purchase vegetables, fruit and milk as well as other essentials. Checks may be payable directly to a food pantry so the donation is tax deductible to the extent permitted by law.
Patti Cook and Sherm Warner pass along this media release:
More than 70 Waimea and North Hawai'i residents participated in an informative coqui frog education program last week at Tutu's House and the "next steps" for organizing neighborhood-by-neighborhood volunteer squads will be discussed along with fundraising strategies to underwrite the purchase of necessary supplies and equipment to stop the invasion before the frogs take hold as they have elsewhere on Hawai'i Island. Planners hope to emulate the success and experience North Kohala residents have mustered to prevent the spread of the noisy alien pests in that community over the past eight years.

The County Redistricting Commission's current near-final map which divides the South Kohala District in half – splitting apart Waimea and Waikoloa which are two communities linked together in the South Kohala Community Development Plan, the North Hawai'i Community Hospital medical service area, the South Kohala Traffic Safety Committee and historically, economically and socially in many other ways — will be discussed by Councilman Pete Hoffmann and Margaret Wille.

NHCH CEO Ken Wood will present a new comprehensive overview of the hospital with time for questions and answers as a follow-up to last month's brief presentation by NHCH CMO Dr. Bill Park.

Finally, plans for the 2012 Waimea Ocean Film Festival will be shared. Now in just its second year, this event has evolved into a world-class film fest combining 30 wide-ranging films, breakfast talks with film makers and ocean people, receptions, art exhibits and activities to inspire, educate and engage participants in the ocean and island culture and to celebrate the connections people everywhere share between land and sea. Hugely successful in its first year in attracting both celebrated film makers and marine experts, the festival will offer several new "packages" this year to reach an even wider audience including school groups.

Everyone is welcome to WCA Town Meetings and membership is not required.

Also on the agenda will be announcement of the coming election of WCA officers in January 2012 as required by the organization's bylaws. A nominating committee has been formed by the board of directors to recommend candidates for the WCA Board. President and Vice President are elected in even-numbered years. A candidate for Treasurer is also being sought to replace Brian Thomas who resigned earlier in the year. Nominations also are welcome from the floor at the November Town Meeting. The election will occur at the Jan. 5, 2012 Town Meeting.