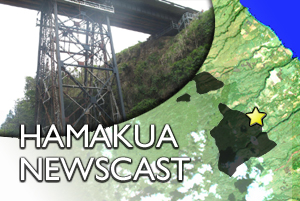 By David Corrigan and Stephanie Salazar
[File Video | photos from Draft EA]
HAMAKUA COAST, Hawaii: A Draft Environmental Assessment has been published for upcoming work on the Umauma Bridge on Hawaii Belt Road.
The State of Hawaii's Department of Transportation plans to widen and rehabilitate the historic Umauma Bridge. Improvements include construction of concrete support columns to be placed within and adjacent to the existing steel support towers, widening of the bridge deck and roadway shoulders, and construction of a new concrete railing.
In the draft EA, it is explained how the existing Umauma Bridge was constructed in 1911. It is a historic bridge and under the jurisdiction of the State Historic Preservation Division (SHPD).
The steel framed Umauma Bridge is now showing signs of steel deterioration. Repair and maintenance projects have been completed and are currently in progress to minimize steel deterioration. The proposed rehabilitation project would install new concrete towers that would support bridge loads, and existing steel towers would become non-structural, as the new concrete piers would be the primary load carrying elements.
The proposed project would also improve safety and correct existing roadway deficiencies. The DOT plans to remove the existing sidewalks and bridge railings, creating, instead, wider shoulders and taller bridge railings along both sides of the bridge.
The proposed action will utilize funding from both federal and state agencies, and the project is subject to both federal and state environmental laws and regulations.
The draft EA is now under a 30 day comment period, after which a 30 day review period will begin.
State officials estimate the project will coast in the neighborhood of $35 million, and work could begin as early as summer 2012.
Also, a temporary water shut off has been announced by the Department of Water Supply for the Hamakua area.
The Affected Areas include all services located South of Antone De Luz Road along Mamalahoa Highway, including, but not limited to, Kukaiau Village and Mauna Kea Ranch Road;
The Water Department planned to turn off the water on Wednesday, October 26 from 10 p.m. to 1 a.m. to do a waterline connection for Kawailii Stream Bridge Replacement Project.
Upon resumption of water service, the waterlines will be flushed and cleaned during which time you may notice turbid and/or discolored water. You may also notice trapped air in your plumbing which will be released as you initially use Please pardon these temporary inconveniences.