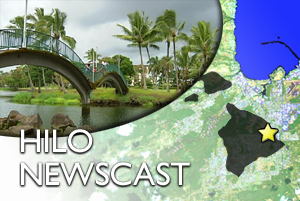 By David Corrigan and Stephanie Salazar
[File Video]
HILO, Hawaii: Big Island police are seeking witnesses to an assault that happened on Monday at Wailoa State Park.
At approximately 7:30 p.m., police say an 18-year-old Hilo man, a 19-year-old Hilo man and a 17-year-old Pāhoa boy were in the parking lot near the large pavilion when four vehicles drove into the park and six to eight men wielding baseball bats got out and attacked them.
The 18-year-old victim sustained severe swelling to his left elbow. The 19-year-old victim sustained a large abrasion to his left temple and a large lump to the back of his head. They were both taken to Hilo Medical Center, where they were treated for their injuries and released. The 17 year old minor was treated and released near the scene.
Police say one of the suspects is described as Micronesian, about 5-foot-7 to 5-foot-8, 160 to 170 pounds with a long, braided pony tail to his mid-back.
One of the vehicles is described as a blue Toyota Tacoma two-wheel drive pickup truck with chrome rims.
Police ask that anyone who may have witnessed the assault or who knows the identity of any of the attackers call Officer Lawrence Kobayashi at 961-2213 or the Police Department's non-emergency line at 935-3311.
Tipsters who prefer to remain anonymous may call Crime Stoppers at 961-8300 in Hilo or 329-8181 in Kona and may be eligible for a reward of up to $1,000. Crime Stoppers is a volunteer program run by ordinary citizens who want to keep their community safe. Crime Stoppers doesn't record calls or subscribe to caller ID. All Crime Stoppers information is kept confidential.