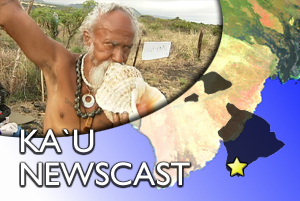 By David Corrigan and Stephanie Salazar
[File Video]
KA'U, Hawaii: Tonight in Pahala, State Senator Gilbert Kahele, who represents District 2 on the Big Island, will be holding the first of his final two talk story forums.
The forums allow Senator Kahele to meet with residents and listen to their concerns, heading into the upcoming legislative session in January.
These final meetings follow on the heels of forums held in Volcano, Pahoa and Ocean View.
Tonight's meeting will be from 5:30pm to 7:30pm at the Pahala Community Center.
The last meeting will take place in Hilo at the Waiakea High School Cafeteria on Wednesday, November 16th, again from 5:30 to 7:30
A federal judge has remanded the case of Abel Simeona Lui back to state court, as the county and the Edmund C. Olson Trust moves closer to closing on the sale of land at Kawa Bay.
Lui had and his supporters had filed an injunction to keep the county from purchasing parcels at Kawa using Open Space funds. According to a report by Nancy Cook Lauer, Judge Alan C. Kay in U.S. District Court in Honolulu ruled the federal court has no jurisdiction over the matter.
The court will rule on several deeds and a genealogy affidavit filed by Lui later this year or early 2012.
Lui claims allodial rights to the land, and says they were given to his great-great-grandfather Timoteo Keawe by way of a royal land grant.
The county has been trying to buy the 551 acres from the Olson Trust for over two years. The price is $3.9 million, with over half the funds coming from state and federal grants. Lui faces a court approved eviction by the county at time.