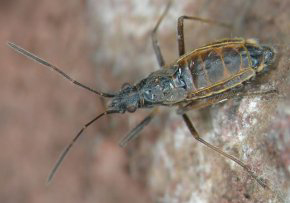 By David Corrigan and Stephanie Salazar
[File Video, photos courtesy Mauna Kea VIS]
MAUNA KEA, Hawaii: It looks like a conservation milestone has been reached in the matter of a little bug found on the summit of Mauna Kea.
The Wekiu bug has been removed from the list of plants and animals considered candidates for protection under the Endangered Species Act – or ESA.
The U.S. Fish and Wildlife Service has released its Candidate Notice of Review, a yearly appraisal of the current status of the world's many creatures.
Three species have been removed from candidate status, three have been added, and seven have a change in priority from the last review conducted in November of 2010. There are now 244 species recognized by the Service as candidates for ESA protection.
The federal service says the removal of the Wekiu bug is based on the successful management of the summit of Mauna Kea on the island of Hawaii. Survey work resulted in more than doubling the number of sites where this species is found. The protection and monitoring of the Wekiu bug provided through the management plans for Mauna Kea has precluded the need to list this species, say officials.
The flightless Wekiu bug inhabits the summit area of Mauna Kea, above 12,000 feet (3,700 m). It is named after Puʻu Wēkiu, the summit peak of Mauna Kea. The bug has adapted to feed on insects that are blown up to the top of the mountain and die. Scientists say the little bug, measuring a quarter inch in length, has a type of "antifreeze" in the blood that allows it to survive at low temperatures.
The three species removed from the candidate list include Wekiu bug, Gila springsnail, and the New Mexico springsnail.
In the same media release, the service says it is also working to make implementation of the ESA less complex, less contentious, and more effective.