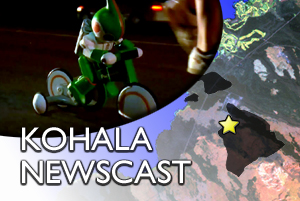 By David Corrigan and Stephanie Salazar
[Video courtesy EVOLTA on YouTube]
KOHALA COAST, Hawaii: The little robot that could… the biker bot, part of the Panasonic EVOLTA battery powered threesome… is currently taking on the arid lava fields along the Gold Coast of Hawaii.
This is a daunting stretch for the folks in the Evolta crew, who are hoping these three robots, each designed to handle a different portion of the famous Ironman triathlon, can finish in 168 hours.
University of Tokyo associate professor Tomotaka Takahashi and his support crew will stop only to recharge the batteries and do repairs and maintenance.
This 112-mile bike ride is going a little slower for the Evolta robot than it does for the human competitors, but the team is getting a lot or moral support.
Here, the crew is greeted by the employees of the Mauna Lani Bay Hotel & Bungalows, as the robot passed by around midnight on Thursday. Just like on Ironman day, Mauna Lani Bay had a well stocked aid station and lively cheer squad to give Evolta that extra push as his little legs took him back into Kona.