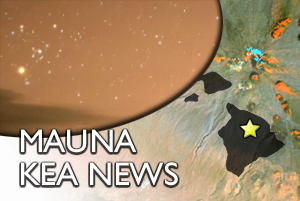 By David Corrigan and Stephanie Salazar
[File Video, Video courtesy Canada France Hawaii Telescope Cloud Cam]
MAUNA KEA, Hawaii: There could be the possibilty of snow on the summit of Mauna Kea this weekend…
According the Mauna Kea Observatories Forecast, building instability combined with an influx of low-level moisture is expected to breakdown the inversion through Friday, perhaps allowing the atmosphere to turn fairly saturated particularly for most of Saturday. Nonetheless, this will raise the stakes on fog, ice and snow at the summit as well as convection in the area, especially for Friday and Saturday night.
Check out the Mauna Kea Weather Center online or the public can call to hear the Mauna Kea Rangers' recorded message on public road conditions and snow reports: (808) 935-6268.
In general the Mauna Kea Summit road is always closed the morning after a snowfall, when snow removal equipment is in operation and when the pavement has ice or snow.
Snow removal equipment can only remove snow. Thermal heating is needed to remove the final layer of ice that usually forms under the snow.
But snow or no snow – the Mauna Kea Visitors Center has safety information and public star gazing events most nights the Onizuka Center for International Astronomy Visitor Information Station on Mauna Kea is located at the 9,300 foot (2,800 meter) level on Mauna Kea. Their web site says they are also there to make sure you have all the hot chocolate you need!
According to their visitor information web site, the center is open to the public every day of the year from 9AM until 10PM. Free nightly stargazing programs are conducted at the Visitor Station every night of the year, their Saturday program schedule.