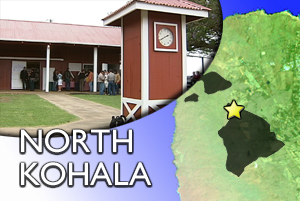 By David Corrigan and Stephanie Salazar
[File Video]
WAIMEA, Hawaii: You can expect "Chicken Skin" moments at the Paniolo Preservation Society's new Paniolo Talk Story gatherings kicking off this Saturday from 5 to 8 p.m., at the new Paniolo Heritage Center at Pukalani Stables.
Stories about unusual, often hard-to-explain phenomenon, will compliment the Halloween season… as the audience will hear stories about the memories of growing up in a Hawaiian ranching family – or working as a paniolo for Parker Ranch or perhaps one of the several hundred others in the State of Hawai'i.
There is no charge to participate and attendees may BYOC — bring your own coolers and chairs – but neither are essential – there will be plenty of seating and ono chili 'n rice and sweet treats.
The program is funded in part by a Richard Smart Fund "Ho'ohui O Waimea – Waimea Coming Together" grant from the Hawai'i Community Foundation.
While free, Paniolo Talk Story attendees are urged to join or contribute to PPS to help grow the Paniolo Heritage Center at Pukalani Stables as a valued community resource and gathering place. Families and friends are also urged to use the stables for family and community gatherings as rental income is important to sustaining the Pukalani Heritage Center.