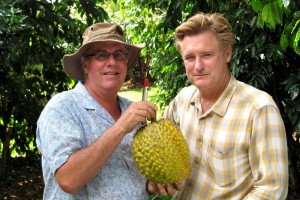 By David Corrigan, Lynn Beittel and Stephanie Salazar
[photos by Lynn Beittel, file video from 2009]
KEALAKEKUA, Hawaii: The Fruit Hunters have come and gone, and now Kona waits to see the finished cut of award-winning Chinese-Canadian filmmaker Yung Chang's new documentary.
Lynn Beitell of Visionary Video, who often provides video for the Big Island Video News casts, assisted the five person Canadian crew from Eye Steel Productions in Montreal. She provided these photographs of the behind-the-scenes.
Island residents may notice Ken Love – Kona's resident fruit advocate and Hawaii Tropical Fruit Growers President – acting as guide… and they may also notice actor and so called fruit activist Bill Pullman. Both played a big role in the local taping… which took place at the Culinary School in Kealakekua, Dick Kuehner's home orchard near Kealakekua Bay, The Four Seasons Resort Hualalai, the Keauhou Farmers' Market, Captain Cook and Hawaii Volcanoes National Park, to name a few.
The film is said to explore the diversity of the world's fruit, and the passions fruit ignites in the heart of fanatics.
Crew arrived late Friday, Oct. 22 and as supposed to leave on Tuesday, Oct. 25, but extended their stay until Oct. 27 because they had so much to shoot. The crew stayed at the Manago Hotel and reportedly loved the ambiance.
Also, The Keauhou Beach Resort is the new location of the 6th annual Hawai'i Avocado Festival. The free, community event is 10 a.m.-4 p.m. Saturday, Feb. 18 and offers a wealth of activities for attendees of all ages.
Fun and informative festivities include demonstrations on avocado grafting and growing, an avocado recipe contest, free guacamole sampling, farmer's market, arts and crafts, healing arts, eco fashion show and a full lineup of performing arts. Last year's all-day event attracted 3,000 attendees.
Also on display and for sale will be original festival art and t-shirts.