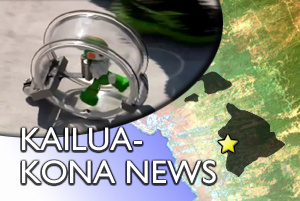 By David Corrigan and Stephanie Salazar
KAILUA-KONA, Hawaii: The EVOLTA robot crossed the Ironman finish line on Alii Drive on Saturday, ending the week-long challenge undertaken by these three robots powered only by three rechargeable AA Panasonic Evolta batteries.
The three different robotic prototypes each took part in one of the three legs of the famous Kona triathlon – the 2.4-mile swim, 112-mile bike ride and 26.2-mile run.
The EVOLTA team that guided the little triathlete through the Ironman course only intervened to recharge the batteries and do repairs and maintenance. They gave the robots 168 hours to complete the daunting course.
At the finish line, a crowd gathered to join in the celebration, in what will go down as a successful science experiment… and memorable publicity stunt.
Also in Kona, a Model APEC conference involving island youth was held in Kealakehe.
Some of the brightest high school students from around the state gathered at the West Hawaii Civic Center to simulate the exchange that will happen between the leaders representing the 21 associated Asia-Pacific economies that will be taking place in just a few days on Oahu.
The Hawaii Island model APEC effort was spearheaded by Councilmember Brittany Smart.
Join us tomorrow, as we cover this event in greater detail.