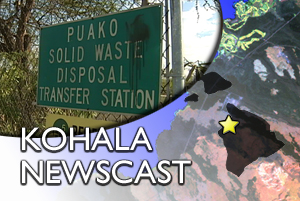 By David Corrigan and Stephanie Salazar
[Video by David Corrigan]
PUAKO, Hawaii: Green waste collection will be temporarily suspended at the Puako Recycling and Transfer Station beginning Tuesday, November 1, 2011, to remove a fire threat and enforce a ban on commercial green waste at the facility.
The transfer station will remain open three days a week according to its normal schedule for all other transfer station operations.
The county says green waste has accumulated to amounts that could result in a combustion-generated fire and must be removed.
The suspension of green waste collections will allow Department of Environmental Management crews to remove the pile of green waste and haul it to Hilo for mulching.
DEM also wants to stop illegal use of the facility by commercial green waste haulers, which has contributed to the growth of the pile. The Puako Transfer Station is not permitted to accept green waste from commercial haulers. Only residential users may legally dump green waste at the facility. An off-duty police officer will be on site to enforce the temporary ban on all green waste at the facility.
New fencing is also being installed to prevent the disposal of green waste and other materials at the transfer station during hours when it is closed to the public.
When green waste collections resume in December at the Puako Transfer Station, they will be on a dedicated green waste day which will be each Saturday from 8:00 am to 4:00 pm. Residential loads must be no larger than five cubic feet which is approximately the size of an eight-foot pickup truck bed filled to the height of the cab.
WAIKOLOA, Hawaii: This Saturday was the Waikoloa Senior Center's 12th Annual "Biggest and Best" Garage Sale.
Held at the home of Joan and Pete Hoffmann, the sale featured an assortment of kitchen utensils, household wares, clothes, books, golf related equipment, children's items, garden and patio stuff, bedding and linens and other so called "unusual treasures."
All proceeds will go to support the activities of seniors in Waikoloa Village.