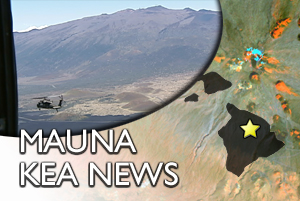 By David Corrigan and Stephanie Salazar
[File Video]
POHAKULOA TRAINING AREA, Hawaii: On Friday, the 25th Combat Aviation Brigade concluded the flight operations portion of High Altitude Mountainous Environmental Training – or HAMET – on the central mountains of Hawaii island
The training, which began Oct. 7, consisted of flying to three landing zones (or LZs) on the slopes of Mauna Kea and three LZs on the slopes of Mauna Loa. Aviators and their aircraft must re-deploy to Oahu to complete the training in preparation for the upcoming deployment to Afghanistan.
Pilots practiced helicopter power management, approach, touch and go, and hovering tasks to prepare them for conditions they will encounter when deployed, such as weather and low oxygen.
The proposed training raised alarm amongst certain environmentalists and some native Hawaiians, but as it turns out, the length of the actual training was only a fraction of the time spent obtaining permits and doing the required environmental assessments.
Approximately 2,600 CAB Soldiers will deploy to Afghanistan in early 2012 for a one-year deployment. The army says familiarity with this specialized HAMET is critical to saving the lives of the Army's aircrews and the Soldiers they will transport during the year ahead .