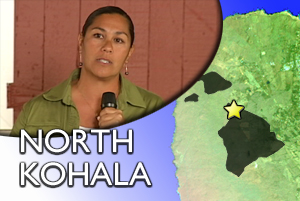 By David Corrigan and Stephanie Salazar
[Video by David Corrigan]
WAIMEA, Hawaii: Waimea amnd North Kohala really get into the Halloween spirit…
Maybe it has something to do with its policy on pumpkins…
At this time of year, a number of high profile Waimea events focus on pumpkins.. like the HPA's annual Pumpkin Patch event, the Waimea Farmer's Market – Pumpkin Growing Contest, or the Kohala Mountain Farm Pumpkin Patch.
We spoke with Pumpkin Patch organizer Stacy Hasegawa about why pumpkins tend to like it up here in North Kohala.
Waimea gets into the spirit in other ways, too…
"Chicken Skin" tales were told before a packed, overflow crowd at the Paniolo Heritage Center at Pukalani Stables on Saturday night.
This was the first ever Paniolo Preservation Society "Paniolo Talk Story" gathering.
Hostess Ku'ulei Keakealani led off the evening, which included appearances by Kaniela Akaka, Dr. Billy Bergin, Auntie Jeanette Stevens, Kaiwi Kihoi, and Deedee Bertelmann… just to name a few.
There was no charge to attend, but folks could buy some chili 'n rice, prepared by and benefitting the Pu'upulehu High School Hui of Kanu o ka 'Aina.
The program, modeled after similar talk story events held at the Mauna Lani for years, is funded in part by a Richard Smart Fund "Ho'ohui O Waimea – Waimea Coming Together" grant from the Hawai'i Community Foundation.
KAPAAU, Hawaii: In other news, fire and rescue crews responded to an early afternoon alarm on Friday to Pololu Valley Beach for a man who nearly drowned.
Fore officials say the 59 year-old man found himself in trouble while in the ocean due to his unfamiliarity with the beach and sea currents at Pololu Valley beach. The man was pulled from the water by friends and bystanders and flown to North Hawaii Community Hospital.