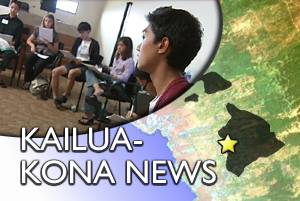 By David Corrigan and Stephanie Salazar
[Video by David Corrigan, Photo courtesy Hawaii County police]
KONA, Hawaii: Hawaii County Police have arrested these three men for assault in connection with a confrontation in Kona early Saturday Morning.
Kona patrol officers responded to a 2:15 a.m. report of an affray in the parking lot of a Kailua-Kona shopping center located between Alii Drive and Kuakini Highway.
An injured 36-year-old Kailua-Kona man was taken to Kona Community Hospital and later flown to Kaiser Permanente's hospital on Oahu, where he remains in stable condition.
Police believe the victim and three men had been in a verbal dispute that became physical. The victim was reportedly punched and kicked about the head and face.
Police arrested 29-year-old Kapena Kuahiwinui of Kailua-Kona at the scene. Two other suspects, 24-year-old Smith Alani of Kailua-Kona and 23-year-old Noah Alani of Captain Cook, fled by car prior to police arrival. Officers located them at 2:45 a.m. in a parking lot off Henry Street and arrested them.
All three suspects were taken to the Kona police cellblock while detectives from the Area II Criminal Investigations Section continued the investigation.
On Sunday, all three suspects were charged with second-degree assault. Kuahiwinui was held on $10,000 bail until his initial court appearance yesterday. The other two men were released from custody after posting $2,000 bail each.
More on the model APEC event we first reported in yesterday's newscast… This weekend at the West Hawaii Civic Center in Kealakehe, high school students from the Hawaiian Islands took part in a simulation of the economic summit that will be held next week on oahu.
These kids stepped into the shoes of world leaders, role playing "member economies" with other students from across the state.
The event was the brainchild of Ka'u district councilwoman, Brittany Smart.
The kids discussed issues of real world importance, similar to those that will be talked about on Honolulu's global stage.
Something that keynote speaker Ambassador Lauren Kahea Moriarty knows "a little something" about.
Other speakers at the event included Dr. David Hammes, and locally known faces like councilmembers Pete Hoffman and Dominic Yagong.