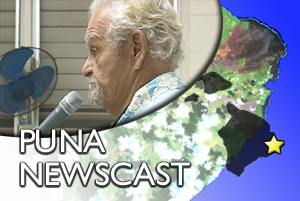 By David Corrigan and Stephanie Salazar
[Video by David Corrigan]
PAHOA, Hawaii: A familiar face in Puna may be on his way to joining the Hawaii County Transportation Commission.
Jon Olson, up for a preliminary approval to the position when he goes before the Hawaii County Council Committee on Economic Development and Mass Transit.
Folks in Puna will recognize Olson for his frank testimony on Puna's continued growth, and the resulting infrastructure failures.
According to the communication, Olson is the Vice Commander of the U.S. Coast Guard Axiliary Flotilla 3-19, a member of the Puna Friends of the Park, Pahoa Main Street, and the Puna Traffic Safety Council.
If approved, Olson will serve until December 31, 2014.