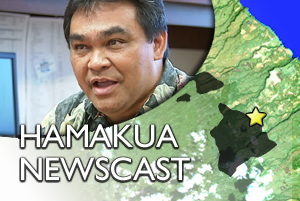 By David Corrigan and Stephanie Salazar
[File Video]
HONOKAA, Hawaii: Yesterday we mentioned the growing concern in the Hamakua region over a possible draft political map being looked at by the Hawaii County Redistricting Commission… today, Hamakua's councilman Dominic Yagong is voicing his opinion on the process.
In an email sent out to his constituents, Yagong – who is also the council chair – says he has been receiving many questions about the Commission as of late.
The Commission currently has two plans before it, Plan A as amended, and Community Plan 40, as amended. The Commission will be holding meetings on Thursday November 3, and also November 10, the self imposed deadline to finalize which plan they will be presenting as their final plan.
Yagong says he believes Plan A, in its current state, is very bad for the Hāmākua coast and Council District 1.
In his message, Yagong says quote
"What Plan A would do is cut the Hāmākua District in half, sending all residents north and west of Pa'auhau road near Honoka'a into Council District 9 with Waimea, Kohala, and the Puako/Kawaihae areas. This would result in the communities of Honoka'a, Kukuihaele, Waipio Valley, and Āhualoa all being lumped into this new District 9.

The remainder of Hāmākua from Pa'auhau traveling east towards Hilo would form a new Council District 1 that would begin in downtown Hilo. This would include but not be limited to the communities of Pa'auhau, Pa'auilo, O'okala, Laupāhoehoe, Ninole, Hakalau, Honomu, Umauma, Pepe'ekeō, Pāpa'ikou, Paukaa, and Wainaku.

By splitting the Hāmākua district, and placing the split near Honoka'a, the Hāmākua Coast would effectively be rendered inconsequential. Taking into account populations and registered voters in the new districts it is likely that the new Council District 1 would be represented by someone from the Hilo side. Likewise, Honoka'a in the new Council District 9 would likely end up being represented by someone that comes from Waimea."
Yagong encouraged folks who share his view to submit testimony to the Commission, tellng them to vote against Plan A.