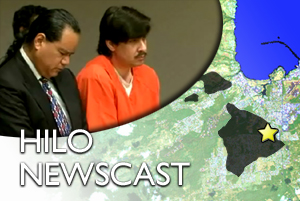 By David Corrigan, Daryl Lee and Stephanie Salazar
[Video by Daryl Lee]
HILO, Hawaii: A Hilo man who pleaded guilty to drowning a 5-year-old girl in a bathtub has been sentenced to life in prison.
Judge Glen Hara ruled that Anthony Poulin will have to spend at least 15 years in prison before being eligible for parole for the murder of his girlfriend's daughter Javieanne Win two years ago.
The girl's mother was in the gallery on Tuesday, as Poulin said little in court.
The state of Hawaii was shocked in September 2009, when Javieanne was found dead in a filled bathtub within her family's Pu'ueo Street apartment in wainaku.
The ensuing investigation lead to the arrest of 30-year-old Poulin, described at the time as Javieanne Win's caregiver and caller of the reported drowning. He was arrested for abuse of a household member but was not immediately charged while detectives continued their investigation. Later, Poulin was charged with murder, as well as two counts of first-degree sexual assault.
Shortly after Poulin was charged in 2009, Win's family spoke to the media outside the courtroom.
For Win's family in the courtroom on Tuesday, it was about closure.