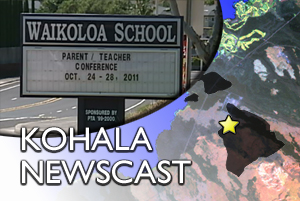 By David Corrigan and Stephanie Salazar
[Video by David Corrigan]
WAIKOLOA, Hawaii: There will soon be "no parking allowed" on both sides of Hooko Street west of Paniolo Avenue.
That's if Bill 115 passes first and second reading at the Hawaii County Council. The measure will be up for a vote on Wednesday.
According to the agenda, the bill – introduced by Puna councilman Fred Blas – is an effort to restrict people from encroaching in the through lane and backing up traffic, especially on school days during Waikoloa Elementary School hours.
Pete Hoffmann, who lives not to far from Paniolo Avenue in Waikoloa, recently explained the need for the restriction.
The council meets today in Hilo.