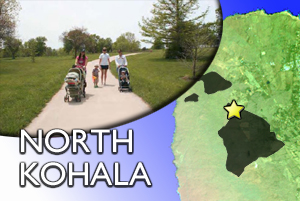 By David Corrigan and Stephanie Salazar
[File Video]
WAIMEA, Hawaii: The County of Hawaii has requested that the Federal Highway Administration extend the comment period for the Waimea Trails and Greenways project by a week before its decision on whether to issue a Finding of No Significant Impact – or FONSI – in accordance with the National Environmental Policy Act.
The Waimea Trails and Greenways project, known as Ke Ala Kahawai O Waimea, has stirred debtae in the community. The 4.8-mile long, multi-use path will follow the meandering Waikoloa Stream, extending from Church Row to a future county park on Kawaihae Road. The path will be paved, vary from 10 to 12 feet in width and be ADA accessible for most of its length.
Some residents winced at proposal to remove some non-native eucalyptus trees, which were planted in the 1930s as wind breaks for ranchers.
The county says will limit removal to dead and diseased trees, as well as those which may present a danger to trail users, and all attempts will be made to realign the path rather than disturb healthy native eucalyptus trees.
Also, there have been some concerns about the appearance of a concrete trail, but the county says it has committed to using earth-toned dyes and stains that will allow the path to blend in with the surrounding environment. Others say it is a much needed, safe path that will be utilized by school children who will otherwise be walking on the side of the highway en route to class.
During this talk story March, the mayor addressed the contentious topic – at the time it seemed the mayor would be content to let the effort stall.
However, it appears the administration is going ahead with the plans… The County recently issued a FONSI on the state environmental impact statement, and plans to apply for apply for federal Transportation Enhancement funds, with approximately $16 million available for eligible projects in the state of Hawaii.
The first portion of Ke Ala Kahawai O Waimea is estimated to cost $5.8 million. Should the entire trail be developed, the cost is estimated at $18 million, with those funds coming from federal Transportation Enhancements as well as public and private grants and donations.