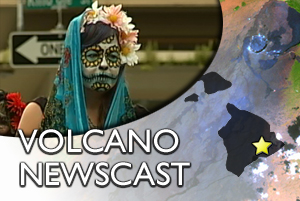 By David Corrigan and Stephanie Salazar
[Video by David Corrigan]
HILO, Hawaii: The Volcano Art Center's first Dia de los Muertos series of events wraps up tonight at the Niaulani Campus in Volcano Village.
This video was taken on Tuesday night, just before sundown in Hilo, where a related candelight procession marched through Downtown Hilo, returning to the East Hawaii Cultural Center by night.
Participants were encouraged to wear their finest, most creative skeleton masks or face paint and attire.
There was also a shrine illumination.
But tonight, the community gathers for an art and fiesta event, at he location of a Grievin' and Groovin Art Exhibit at the Hale Ho'omana Educational Facility at the art center.
It will be the culmination of a two-day celebration honoring our beloved departed… this exhibit will represent art work, writing, movement and rituals based on the subject of death, loss, mortality and the passage of time.
Based on the actual dates of the traditional cultural celebration, it will close in a fiesta celebration on the evening of the second day.
Dia de los Muertos, or "The Day of the Dead," is a traditional Mexican celebration that focuses on the remembrance of loved ones who have passed away.