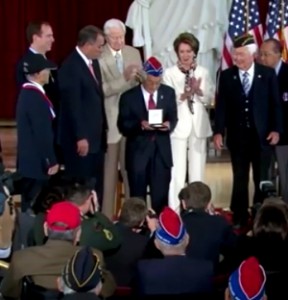 Video by David Corrigan & Stephanie Salazar
WASHINGTON, D.C.: One time Honokaa resident Mitsuo Ted Hamasu was front and center in Washington D.C. on Wednesday, as 33,000 Japanese Americans – 13,000 of which are from Hawaii – were honored at the capitol with the Congressional Gold Medal.
The World War II veterans of the 100th Battalion – or One Puka Puka – of the now prestigous 442nd Regimental Combat – were once classified as "enemies of the state" in the wake of the attack on Pearl Harbor.
After petitioning the government to put on a uniform in order to show their patriotism, they proved themselves to be brave and fearless, and the 442nd ended up being the most decorated unit in U.S. military history.
President Barack Obama signed legislation last year approving the creation of a Congressional Gold Medal for Japanese-American veterans.
One recipient, Sen. Daniel Inouye, D-Hawaii, received a standing ovation when he rose to speak at the event.
Inouye, who received the Medal of Honor five decades after the war 1999, lost his right arm while leading his men of the 442nd in an attack against German machine gun nests in Italy.
As for Hamasu, who is now a Pearl City resident… he was one of three nisei to accept the medal from House Speaker John Boehner, as a representative for the thousands being honored.
Later, "in their own words", the various leaders and officials praise the bravery of the members of the 442nd on this historic day.