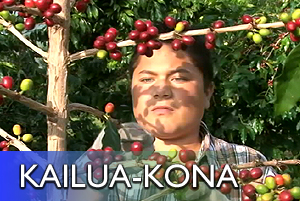 By David Corrigan, Lynn Beittel and Stephanie Salazar
[Video by Lynn Beittel of Visionary Video]
HOLUALOA, Hawaii: It one of the favorite events in the Kona Coffee Cultural Festival.
The coffee pickers of past and present – young and old – match skills in an attempt to denude a tree of red cherries in the allotted time – three minutes. Minoru Tashima explains in this video.
The event – held just north of Holualoa Village on the 26 lushly manicured acres of the Ueshima Coffee Company estate – is for the early risers of the festival.
Contestants are divided by several categories including pioneer, pro, novice and keiki. For visiting Aletha Stephenson of Coltsville, PA, the event was a thrill.
The participants are watched by the marshalls of the contest, like Bob Vaughn, who make sure all rules are followed. After all, there is more to it then just speed.
Big Island Video News will continue covering the events of this festival throughout the week, and we will also have an update of the C.B.B. beetle infestation that is threatening the Kona coffee Industry.
Also, stay tuned for more on growing up in Kona coffee country, from Alfreida Fujita… in her own words.