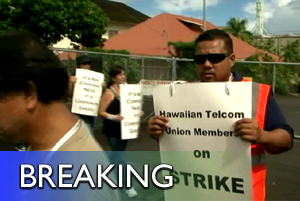 By David Corrigan and Daryl Lee
[Video by Daryl Lee]
Hilo, Hawaii: A handful of Hawaiian Telcom workers under the International Brotherhood of Electrical Workers Local Union 1357 picketed on Kinoole Street in Hilo today.
Reading from a prepared statement, unit 3 strike captain McKay Haiku said the union is on strike over a Hawaiian Telcom contract proposal that "threatens our pension, affects our medical, dental, sick leave and the future of the union and its members."
Haiku said the union is not asking for anymore than they have today, and asked for the public's understanding and support, "as we protect our retirement and our benefits from corporate greed and mishandling."
Big Island Video News has reached out to media relations with Hawaiian Telcom and will publish their response here if one is provided. (UPDATE BELOW)
Over half of Hawaiian Telcom's workers are represented by IBEW Local 1357.
UPDATE:  Hawaiian Telcom response:
Hawaiian Telcom Union Workers in Work Stoppage
Company Activates Contingency Readiness Plans

HONOLULU (Thursday, November 10, 2011) – (NASDAQ: HCOM) The International Brotherhood of Electrical Workers Local Union 1357 (IBEW 1357), which represents over half of Hawaiian Telcom's employees, announced its decision to begin a work stoppage as of today, November 10, 2011. The Company presented its Last, Best and Final Offer for a new collective bargaining agreement to the union in early October, and following a vote by membership on the Offer, union leadership opted to strike.

Having anticipated this possibility, Hawaiian Telcom has activated readiness plans to minimize service disruptions during the work stoppage, but cautions that delays can be expected. "While we hope to return to normal operations soon, we sincerely apologize to our customers for any temporary inconvenience due to the union's action and ask for their patience and understanding during this period," said Scott Simon, Executive Director – Corporate Communications for Hawaiian Telcom.

Regarding Union Work Stoppage During APEC

With a proud history of dedicated service to the people and businesses of Hawaii for the past 128 years, Hawaiian Telcom regrets that union leadership of IBEW 1357 has elected to start a work stoppage on one of our State's proudest moments hosting the Asia-Pacific Economic Cooperation events. Countless Hawaii residents are volunteering, sacrificing, and contributing toward showing that Hawaii is an ideal setting for high-level business gatherings and even international diplomatic meetings. It is unfortunate that the Union has begun its work stoppage at this time, when they could have waited and continued working through APEC without losing anything.

Hawaiian Telcom's contingency plans considered the special needs and focus required during the APEC conference. The plans we are now executing upon provide for essential functions normally performed by the Company's union-represented employees to be performed by reassigned management employees and non-union employees, along with outside contractors in key technical areas. For security reasons, we cannot disclose any greater detail, but we have planned and are prepared for this contingency.

Regarding the Company's Last, Best & Final Offer and Contingency Plans

"The Company made a good faith offer for a new agreement that fairly balances all parties' needs with the benefits provided by competitors and other employers, and the realities of competition in the communications business and a challenging economy," Simon added. "Our Last, Best and Final Offer demonstrates a commitment to ensuring that our employees continue to receive competitive pay and very favorable benefits."

Key components of the Company's Offer include:

Union employees have been paying nothing toward full healthcare coverage for themselves and dependents. The Company's offer would have employees contribute 10 percent to healthcare premiums for employee and dependent coverage;

Employees have been able to take up to six months fully paid sick leave each year. The Company's offer provides up to 8 weeks fully-paid sick leave annually, plus adds company-paid long-term disability and long-term care insurance;

Union employees have been provided a pension and matching 401(k) of $0.82/dollar up to 6% of base salary. The Company's Last, Best and Final Offer provides an enhanced 401(k) company dollar-for-dollar match up to 10 percent of base salary while freezing pension plan benefits at existing values; and

One percent compounded wage increases and an annual $500 ratification bonus for three years.

Under the Company's contingency plans, most of its management and non-union employees have been trained for temporary reassignment to other job functions. The Company also secured local and mainland contractors on stand-by to assist during a work stoppage.

Customers may be impacted by the union's work stoppage in the following ways:

Repair work will be prioritized to first address needs of critical facilities such as hospitals, police, fire, etc.;

Other field work and service issues will be prioritized based on available resources and therefore some delays should be expected; and

Wait times when calling the Company may be longer.

About 700 employees out of the Company's workforce of approximately 1,300 are IBEW members.

Customers with billing, service or other questions can find assistance at hawaiiantel.com. Hawaiian Telcom will notify customers through the news media when the work stoppage period is over.

Forward-Looking Statements

In addition to historical information, this release includes certain statements and predictions that constitute forward-looking statements within the meaning of the Private Securities Litigation Reform Act of 1995. In particular, any statement, projection or estimate that includes or references the words "believes", "anticipates", "intends", "expects", or any similar expression falls within the safe harbor of forward-looking statements contained in the Reform Act. Actual results or outcomes may differ materially from those indicated or suggested by any such forward-looking statement for a variety of reasons. More information on potential risks and uncertainties is available in recent filings with the Securities and Exchange Commission, including Hawaiian Telcom's 2010 Annual Report on Form 10-K. The information contained in this release is as of November 10, 2011. It is anticipated that subsequent events and developments may cause estimates to change.

About Hawaiian Telcom

Hawaiian Telcom Holdco, Inc., headquartered in Honolulu, is Hawaii's leading provider of integrated communications solutions for business and residential customers. With roots in Hawaii beginning in 1883, the Company offers a full range of services including voice, video, Internet, data, wireless, and advanced communication and network services supported by the reach and reliability of its network and Hawaii's only 24/7 state-of-the-art network operations center. With employees statewide sharing a commitment to innovation and a passion for delivering superior service, Hawaiian Telcom provides an Always OnSM customer experience. For more information, visit www.hawaiiantel.com.