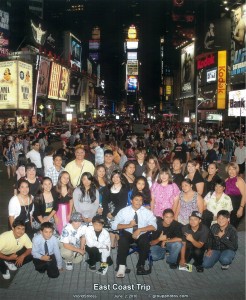 Media release from Waimea Middle School:
Waimea families and community friends are again invited to participate in Waimea Middle School's annual Thanksgiving Imu – both as part of a cultural learning and sharing tradition and to help underwrite the annual 8th Grade East Coast educational trip.

The cost is $25 per pan, and families may bring one or several pans to be cooked in the traditional underground oven, coordinated by students with the guidance and help of their families.

Funds raised go entirely to the student trip to Washington, D.C., Philadelphia and New York City to bring to life the lessons learned in 8th Grade American History classes. The trip is also organized to provide students with a glimpse of post high school opportunities, and for many, represents their first visit out of state.

Pans of food may be dropped off between 3-5 p.m., Wed., Nov. 23, 2011, and picked back up between 8-9 a.m., Thurs., Nov. 24 (Thanksgiving morning).

Foods must be thawed, seasoned and placed in heavy-duty foil pans, and then double wrapped with heavy foil. It is recommended that clean green ti-leaves or parchment be wrapped around the foods before the foil outer wrapping to keep foods from directly touching the foil.

Tickets for the imu must be purchased in advance from any of the East Coast students or family members, or by emailing the project's teacher-advisor Eunice_Lazarus@notes.k12.hi.us, stopping by the school office or calling Patti Cook (937-2833).

Donations of ti leaves and banana stalks are also needed for the imu.