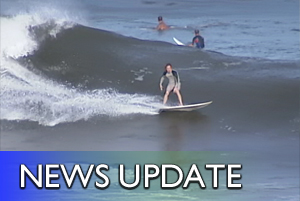 By David Corrigan and Tim Bryan
[File video by David Corrigan]
HONOLII, Hawaii: Honolii Paka will be the the place to be Saturday, when the 8th Annual Honoli'i Aloha Honua Festival & Surfing Classic will be held.
Basic Image is proud to sponsor of the event. Everyone is invited to participate.
There will be live, local entertainment, games, prizes, food and more!
The Surfing Classic is open to surfers ages 17 and under; there will be four divisions (long board, short board, body board and 'ohana – parent and keiki). There is no fee to enter but parental consent and participation are required. Space is limited to the first 120 competitors. Check-in time is 6:45AM with the first heat starting at 7:30AM.
The 8th Annual Honoli'i Pāka Aloha Honua Festival will occur as part of a continuing public awareness and educational campaign designed to inform communities of the key role they play in mālama'āina (taking care of the land). No one knows more about this than Bradda Skibs, whose hard work has transformed the park into what it is today.
Skibs talked about the restoration during the premier of his short film "Aloha Aina", documenting the effort.
From the Honolii Paka Facebook event page:
Performing at this year's event is Candy Crew, LeiManu, Lito Arkangel, Franz Kahele & Eugene Matsumura

Mahalo to our sponsors: County of Hawaii, Hawaii Tourism Authority, Blue Planet, BIISC, S. Tokunaga, Captain Zodiac, Starbucks, Orchid Land Surfboards, Hilo Surfboards, Jeff Hunt Surfboards, Diabolik Surf & Glass, Miller's Surf….