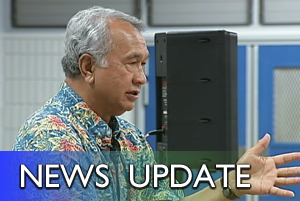 By David Corrigan and Tim Bryan
[Video by David Corrigan]
HILO, Hawaii: In Hilo, as we reported at the top of our newscast… Hawai'i Island's District 2 State Senator Gilbert Kahele hosted his final "Talk Story" forum this Wednesday (Nov 16) at Waiakea High School in Hilo.
The senator has held forums in Volcano, Puna, and Ka'u… all in preparation for the upcoming 27th legislative session in January.
Kahele also provided a re-cap of his recently completed freshman legislative term.
Kahele was appointed to the senate seat after the former senator, Russel Kokubun, resigned to take a position with the incoming Abercrombie administration as the head of the Department of Agriculture. Kahele, who headed Abercrombie's East Hawaii campaign for governor, went through the selection process and was eventually appointed by Abercrombie.
Despite Abercrombie's rocky first year as Hawaii's governor, Kahele defended Abercrombie's leadership since taking office.