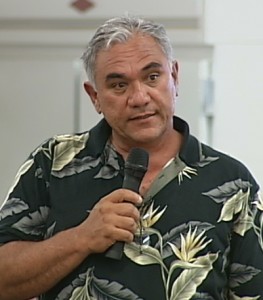 By David Corrigan and Sherry Bracken
[Video by David Corrigan]
KONA, Hawaii: West Hawaii remembers the promises made on the campaign trail…
Kona's Honokohau Harbor has lots of potential, but for years it has gotten little attention from the cash strapped Department of Land and Natural Resources, which is charged with maintaining the harbor through its Division of Boating and Ocean Recreation.
Now, nearly one year since the Abercrombie administration took office, the users of the small boat harbor are running out of patience.
Earlier this year, after a tough legislative session that saw a number of Governor Neil Abercrombie's initiatives rejected by state lawmakers, one bill did get signed into law: the creation of a Public Lands Corporation. It is what Governor Abercrombie says will be the linchpin of his New Day Hawaii Plan
The Governor has said that the corporation will guide the needed redevelopment of the harbor.
But, at the recent Department of Land and Natural Resources Listening Session held at the Konaweana School high school cafeteria, the community voiced its continued frustration…
DLNR Chair William Aila received a list of complaints, and tried to address them where he could, although not always to the satisfaction of the crowd.
The biggest concern seemed to be the boaters' perception that the DLNR is not as receptive to their improvement ideas as they say they are.
Aila responded with some frustration of his own…
And, once again, the department head promised positive change is on the way.