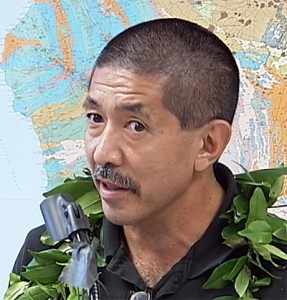 By Dave Corrigan and Stephanie Salazar
[File Video]
HAWAII ISLAND, Hawaii: The county official whose voice assured Hawaii Island in times of emergency – while he worked behind the scenes to ensure everyone's safety – is stepping down.
Hawaii County Civil Defense Administrator Quince Mento has announced his retirement effective today, December 1st.
Local media got a short message from Mento shortly after 4 pm on Wednesday saying "No controversy, it's just time to go. It has been a sincere pleasure to work with you all."
Later, the county administration confirmed Mento's departure, with a much more lengthy media release. In it, Mento was quoted as saying "I've spent 29-and-a-half years in public safety, and it takes a toll on you. This job is 24 hours a day and I need to start thinking about my health."
Hawaii County Mayor Billy Kenoi praised Mento, adding that his retirement is a significant loss for the county.
The 53 year old Mento is a Hawaii Island native and 1976 graduate of Konawaena High School.
He has been in charge of keeping island residents safe from natural and man-made dangers for three and a half years. Prior to his appointment, Mento worked his way up through the ranks of the Honolulu and Hawaii County Fire Departments from firefighter to assistant chief.
Mento has run the gauntlet of emergency situations…
Earthquakes, floods, brush fires, and even hurricane warnings.
Perhaps the most memorable have been his dealings with Madam Pele. In January 2010, Mento spoke about the unique dangers posed by Kilauea on this remote, volcanic island.
Mento also played a prominent role in the operations by the Kalapana lava flow, especially when Kalapana Gardens was threatened in 2010.
Three homes were lost in the span of a few months… but the rest of the remote village was spared.
But the biggest threat to the island during the Mento's tenure as Civil Defense director came on March 11th 2011, when a tsunami generated by a 9.0 earthquake near Honshu destroyed towns along the coast of Japan, and sent a tidal surge racing towards Hawaii.
Mento was the first voice island residents heard over the radio and on internet sites like Big Island Video News, and his voice was heard throughout the long night, until the all clear was given the next day. The damage on the Kona coast was extensive, however – thanks in part to the hard work of the Civil Defense Agency – there was no loss of life.
Not all of Mento's accomplishments came under times of duress. The agency also made some major improvements in the notification system while he was in charge.
John T. Drummond, an administrative officer at Civil Defense, will serve as interim administrator.
Drummond has worked at the agency for more than three years, and will serve with the assistance of Police Chief Harry Kubojiri and Fire Chief Darren Rosario during the 45-day search for a permanent replacement.
A new director is expected to be named in mid-January 2012.
In the meantime, Mento said he has no immediate plans except to relax for a while.