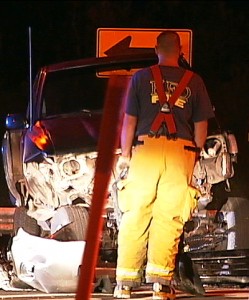 By David Corrigan and Stephanie Salazar
[Video by David Corrigan]
PAHOA, Hawaii: In Pahoa, this car wreck shut down Highway 130 temporarily on Thursday evening… ironically, the crash happened at the same time the Puna community met in town to discuss plans to improve traffic and saftey on the very same roadway.
State Senator Gil Kahele organized the meeting which drew a large crowd to hear Sal Panem, Hawai'i Island's District Engineer with the Department of Transportation, go over all the details on the State Highway 130 projects in Puna.
At a September meeting in Keaau, residents were frustrated when it seemed as if the DOT did not have all the answers to their questions.
But on Thursday night, Sal Panem came prepared, distributing handouts specifically showing all the different improvements planned for the road.
Hunt expressed gratitude for Panem's effort.
The rest of the audience wasn't so quick to let the DOT off the hook.
Damon Tucker, the local blogger who sat on the original advisory committee on the road project and who has documented the many accidents on Highway 130, questioned the costs associated with consultants.
Soon, the conversation turned to roundabouts… the eternal debate when it comes to envisioned traffic efficiency of the future highway.
But just as the meeting took a quick break to set up for more presentations, a police Nixel alert went out to cell phones warning travellers that Highway 130 had just closed because of another traffic accident.
This was the scene on 130 right outside the new Long's Drugstore… this SUV was upside down, and county fire crews worked to clean the debris as police directed traffic around the crash scene… folks on the side of the road were in an  apparent shock over what has become commonplace on what residents call "the most dangerous road in the state."
An unfortunate illustration of the urgent need to reach consensus on these issues, and – as the senator said – move from meetings to action.