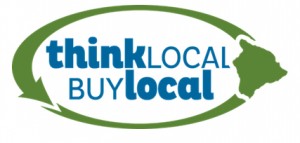 By David Corrigan, Tim Bryan and Stephanie Salazar
[Video by Tim Bryan]
HILO, Hawaii: We've been telling you all week about December's "Think Local, Buy Local" month on Hawaii Island…
Thursday was December 1st, and so Mayor Billy Kenoi was at the Mooheau Bandstand along the Hilo Bayfront to make the proclamation.
The pilot initiative was developed by The Hawai'i Alliance for a Local Economy, or HALE. It intends to highlight how purchasing locally made and grown products and shopping at locally owned businesses can benefit the community, environment and economy of Hawaii Island
The Hilo Downtown Improvement Association and 40 locally owned businesses are joining forces to launch the initiative.
A cornerstone of the initiative is the Black and White Night/Think Local, Buy Local button which offers Hawaii Island residents discounts at participating locally owned businesses throughout the holiday season.
For more information, visit thinklocalbuylocal.org