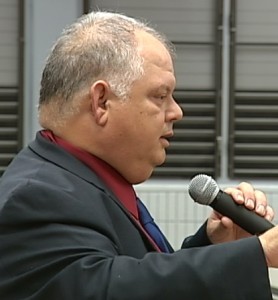 [Video by David Corrigan]
HILO, Hawaii: During a meeting hosted by State Senator Gil Kahele at Waiakea High School in Hilo, the Laupahoehoe Charter School controversy became the subject of a short discussion between Board of Education Vice Chair Brian DeLima, the appointed representative for the Big Island, and Bob Beekman, one of the many Laupahoehoe teachers opposing the charter conversion.
The community voted to pursue the charter conversion in 2010, and after being denied on multiple occasions by the Charter School Review Panel, the Board of Education voted to approve the charter on appeal. The sudden decision created an even greater undercurrent of opposition and controversy. The school has been in a tumult ever since, as teachers, students, and parents – many at odds over the best course to follow – wait to see if the school will actually convert to a charter school or somehow remain under the Hawaii Department of Education.
Earlier in the day, Big Island Video News received the following media release from the Interim Local School Board, who favor the charter conversion:
On Monday, November 28, 2011, Laupahoehoe Community Public Charter School filed an appeal to the Board of Education requesting that it allow an amendment to its school plan regarding setting local school board elections.

The charter school's Interim Local School Board is confident that the Board of Education will make sure that the charter school holds fair and legal elections. Under Board of Education rules, the appeal must be decided within 60 days.

In the meantime, Laupahoehoe Community Public Charter School continues to support the work of the teachers, staff, and unions for fairness in employment, and will soon be accepting registration for incoming kindergarteners.

Laupahoehoe Community Public Charter School encourages all current teachers at Laupahoehoe High and Elementary School to consider teaching at the charter school when it officially becomes a charter, on July 01, 2012. The charter school is required by a government Assurances Framework to prepare in case some teachers may choose to teach elsewhere or retire. The charter school is now accepting letters of interest and resumes from qualified State teachers for school year 2012-13.

Interested teachers should contact Loida Navalta, Administrative Consultant at info@laupahoehoecharterschool.com or 808-430-8699.

For questions about the appeal, please contact Interim Local School Board member Steven Strauss,  808-969-6684