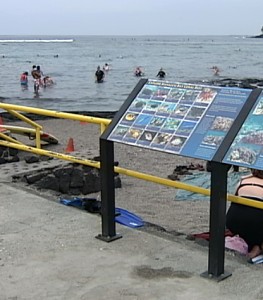 By David Corrigan and Stephanie Salazar
[Video by David Corrigan]
KAILUA-KONA, Hawaii: A new visitor education experience awaits visitors to Kahalu'u Beach Park.
The Kohala Center has entered into a 10-year contract with the County of Hawaii to establish the Kahalu'u Bay Education Center, a new, portable facility to house the educational center and the snorkel rental concession at the popular beach park.
The new education center was blessed this Saturday.
The Kohala Center will manage a snorkel rental concession through which visitors can learn how to enjoy the bay and at the same time protect its fragile environment. All profits from this outreach effort will be re-invested in educational programs and in the implementation of the Kahalu'u Beach Park Master Plan, a conceptual plan which incorporates the community's vision for revitalization of this area.
The Bay Education Center represents a new model of collaboration between the County and a nonprofit.
The center has been professionally designed by Jennifer Bryan of Anoano Design Group and established on-site. The center provides educational videos and computerized access to environmental and cultural information about Kahalu'u Bay and the ahupua'a.
The Kohala Center will continue its successful ReefTeach and Citizen Science programs, as well as the other outreach, educational, volunteer, and research programs currently underway at Kahalu'u Bay. Currently, ReefTeach includes over 270 volunteers and three dozen businesses.