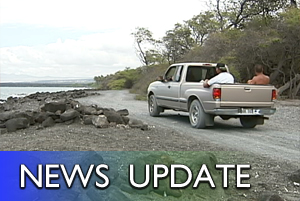 By David Corrigan and Stephanie Salazar
[File video by David Corrigan]
KIHOLO, Hawaii: The Department of Land and Natural Resources has completed an extensive coastal area cleanup at Kiholo State Park Reserve, thanks to strong support from community volunteers.
In a media release issued on Wednesday, the DLNR says it is now implementing an interim camping management plan to allow for permitted camping in designated areas that are appropriately situated to avoid impacts to cultural sites.
The interim camping management strategy and day use policy is as follows:
* Driving on the beach is not allowed
* Camping is allowed by permit from Friday through Sunday nights
* There are 8 designated sites to camp
* Permits are now available on-line up to 30 days in advance of the camping date, for a standard fee: 1 to 6 people will cost $13.20, with a maximum of 10 per site costing a total of $22.00 (those prices are for Hawai'i residents.)
* Permits are available at all State Parks offices or online a : www.hawaiistateparks.org
On October 1, 2011, the Division of State Parks closed the mauka vehicular access gate leading down to Kiholo State Park Reserve in order to conduct an extensive coastal area clean-up and to prepare a highly used area for more controlled and managed vehicular access and authorized camping by permit. The gate will reopen at 7 a.m. on Friday, December 9.
From the DLNR media release:
"DLNR recognizes Hawai'i's longtime need for recreational shoreline camping, and this interim camping action will eliminate impacts associated with driving on the shoreline," said William J. Aila, Jr. DLNR Chairperson. "Division of State Parks has now organized camping into a managed and appropriate use at 8 existing sites. This policy will insure that both the quality of the public experience will improve while vastly reducing impact to Kiholo's valuable resources."

"It is critical that the public honors this management attempt to balance recreational needs with the equally pressing needs of our resources," Aila said.

….

Hui Aloha Kiholo has a Curator Agreement with Division of State Parks for stewardship of Kiholo and has provided tremendous support and collaboration. The Hui recruited and coordinated 178 volunteers over the past two months to support this project.

The Hui, the State Parks West Side crew and a private contractor removed loads of public debris and rubbish, installed 42 new informational and management signs to designate interim campsites and inform about the prohibition of vehicles from driving on the beach.

They installed 48 bollards, approximately 480 feet of cable barriers and assorted boulders and stone wall barricades to prevent vehicular access to the beach, repaired and reactivated an existing gate and installed a new gate, and clarified unimproved access road shoulders and existing footpaths to the 8 interim camping areas.

Aila further noted, "The members of the North Kona community donated the 8 stone fire rings for designated fires that are placed at the newly designated campsites, 3 picnic tables, constructed beautiful dry stack stone wall to prevent vehicle access to the beach, smoothed out existing trails, and bagged loads of rubbish from years of irresponsible recreational use."

"DLNR deeply appreciates the physical commitment and sheer determination of the Hui Aloha Kiholo and many community volunteers to support the State Parks crew in the effort to malama, clean up, and prepare Kiholo for improved and managed day use and interim camping"

"This type of collaboration and stewardship is exactly what our resources need now and in the future in order to balance public use with preservation" William Aila, DLNR Chairperson

For years, unauthorized camping and unrestricted driving on the beach, (with illegal campers sometimes numbering in the hundreds on three day weekends) has been accelerating the decay and inappropriate public behavior near archaeological sites, the crushing of the smooth ili'ili beach stones into dusty gravel, creating periodically large loads of rubbish and human waste disposal issues, and continually reducing the amount of shoreline trees and shrubs. These detrimental impacts made intervention of this pre-existing daytime use and unauthorized nighttime use critical and necessary.

Under Park Reserve status, the 4,362 acres of land is to be preserved for the public's future use as a plan is prepared to determine a variety of management options and various public uses.

A Master Plan/Environmental Impact Statement (EIS) is being prepared to guide the DSP in determining public use and management in a manner that also protects the sensitive cultural history and places of this valuable public resource. Meetings to gather pubic input to this plan have been conducted and will continue in the future on the island of Hawai'i. The Master Planning/EIS process has included archeological surveys of the Park reserve – providing documented knowledge that the area has a rich history of significant Hawaiian culture still in place that must be protected.