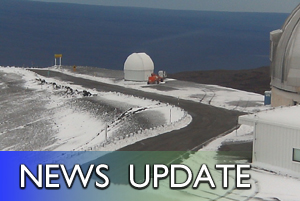 [Video of eclipse by Baron Sekiya, Hawaii 247.com, images of snow at the summit courtesy UH-Hilo and Canada France Hawaii Telescope]
MAUNA KEA, Hawaii: A winter weather advisory remains in effect for mountain summits on the Big Island of Hawaii.
From the National Weather Service:
DEEP MOISTURE NEAR THE BIG ISLAND WILL CONTINUE TO BRING A WINTRY MIX OF WEATHER TO THE SUMMITS AND UPPER SLOPES OF MAUNA KEA AND MAUNA LOA TODAY.

…WINTER WEATHER ADVISORY REMAINS IN EFFECT UNTIL 6 PM HST THIS EVENING…

A WINTER WEATHER ADVISORY REMAINS IN EFFECT UNTIL 6 PM HST THIS EVENING.

* LOCATIONS…THE SUMMITS OF MAUNA KEA AND MAUNA LOA.

* HAZARD TYPES…SNOW AND ICE ABOVE 11000 FEET.

* ACCUMULATIONS…1 TO 2 INCHES OF ADDITIONAL SNOWFALL.

* TIMING…THROUGH TODAY.

Instructions: A WINTER WEATHER ADVISORY MEANS THAT PERIODS OF SNOW…SLEET…OR FREEZING RAIN WILL CAUSE TRAVEL DIFFICULTIES. BE PREPARED FOR SLIPPERY ROADS AND LIMITED VISIBILITIES…AND USE CAUTION WHILE DRIVING.
Before the snow fell on Mauna Kea, Hawaii Island was abuzz over a rare celestial event on Saturday morning.
The full moon was in total eclipse in the early morning hours, the last time there will be such a lunar event over Hawaii until 2014.
This shot was taken by Baron Sekiya of Hawaii24/7 from the Mauna Kea visitors center… a chilly place to be in December.
A few hours later, the same weather system that brought heavy wind and rain to the island also left snow on the summit.
It looked like a blizzard on the Muana Kea webcams Sunday evening, while the summits were under a Winter Weather Advisory.
Several inches reportedly fell on the summit, and in some areas, snow drifts were reported in excess of three feet.
On Sunday, the Mauna Kea summit access road was closed to the public at the Visitor Information Station gate due to snow and ice on the roadways.