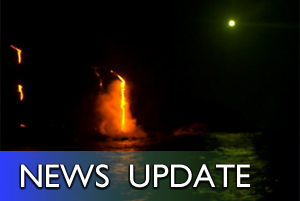 By David Corrigan and Stephanie Salazar
[Video courtesy Lava Ocean Adventures and Ken Haller]
ROYAL GARDENS, Hawaii: With the latest lava flow through the Royal Gardens, all eyes are once again on the subdivision's last remaining resident.
Jack Thompson operates the Lava House bed and breakfast from his home, which somehow still stands while the rest of surrounding neighborhood has been buried in lava.
Its no easy task getting to his house when most roads in and out of the area have been decimated,
Tourist helicopters often drop visitors off at his place for a look around…
… and sometimes, Thompson hitches a ride to town on a helicopter himself…
Now it looks like the county is getting a little more strict on this practise.
Peter Sur of the Hawaii Tribune-Herald recently reported that the County Planning Department is asking to Thompson to do an environmental assessment in order for him to obtain a permitted landing area on his property.
An environmental assessment is an expensive and time consuming process.
Apparently, the bed and breakfast that Thompson has operated for years is also not permitted, according to the county.