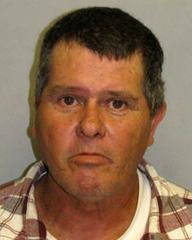 Media release from the Hawaii County Police Department:
Big Island Police arrested and charged a 56-year-old Keaʻau man with first-degree methamphetamine trafficking after Vice officers served a search warrant at his business establishment in the Shipman Industrial area of Keaʻau.
Larry Lee McCormick was arrested Tuesday (December 13) after Area I Vice officers located 33.4 grams of crystal methamphetamine or "ice" at his place of business. The drug was packaged for distribution in more than 30 resealable plastic bags in 1/8-ounce quantities—known as "8-balls"—and smaller. A digital scale and other paraphernalia indicative of drug trafficking were also recovered.
Also arrested was 21-year-old Elija Benavidez of Keaʻau, who was released pending further investigation.
On Wednesday night, McCormick was charged with one count of first-degree methamphetamine trafficking and two counts each of promotion of a dangerous drug and possession of drug paraphernalia. His bail was set at $570,000. He was held at the Hilo police cellblock until his initial court appearance on Thursday (December 15)