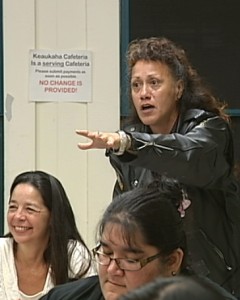 By David Corrigan and Stephanie Salazar
[Video by David Corrigan]
HILO, Hawaii: The Department of Hawaiian Home Lands met the community of beneficiaries at Keaukaha Elementary School Cafeteria on Thursday evening.
Hawaiian Homes Commission Chairman Alapaki Nahale-a, a native of the area, was joined by DHHL staff, in unveiling details of the trust's "Kauhale Pilot Project," which presents a new style of Hawaiian homesteading opportunity.
Kauhale were traditional Hawaiian homesteads that consisted of multiple structures that served specific purposes, like sleeping, eating and cooking.
The modern adaptation of Kauhale will feature multiple residential units that incorporate common living areas to be shared among an extended family on a single homestead lot.
The Hawaiian Home Lands Trust is looking to develop the pilot project Keaukaha in Hilo and/or Waimea. Multiple lessees will likely be connected to the Kauhale homestead.
DHHL reps didnt have any plans or illustrations to show, but they wanted to let everyone in attendance know that the process will be open and will require the input of the beneficiaries. As DHHL planner said Kaleo Manuel, not only is the kauhale rooted in historic Hawaiian Culture… but its the way many families are living today.
Officials showed those in attendance how to go about signing up if they are interested.
The meeting was also held in order for officials to hear from the "top 100″ applicants on the Hawaii Island waitlist to assess how the department can best address the needs of applicants longest on the waitlist.
It didnt take long for the officials to get what they asked for…
Some beneficiaries wondered where in Keaukaha will this new pilot project by built?
Chair Nahale-a said DHHL is not sure, yet, where that will be, but noted that part of the problem is unoccupied vacant homestead lots, which triggered a warning to homesteaders from local leader Uncle Patrick Kahawaiola`a.