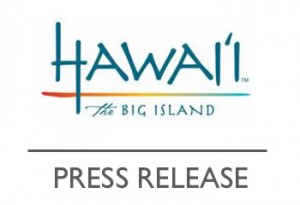 Joint media release from Big Island Visitors Bureau and Lonely Planet:
HILO, HAWAI'I: Hawai'i, the Big Island has been recognized as one of the Top 10 U.S. Travel Destinations for 2012 by the editors of Lonely Planet, the only Hawaiian Island to make the list compiled by one of the world's leading travel publishers.
"Hawai'i, the Big Island was chosen for its 'Best in Show' qualities with regard to all Hawaiian vacation offerings – beaches, hiking, water sports, vistas, unique landscapes, varied cuisine, and accommodation options," said Robert Reid, Lonely Planet's U.S. Travel Editor. "Additionally, with the rise of direct flights to Kona, travel to the Big Island has never been easier."
"Hawai'i Island is a destination full of inspiring experiences and big adventures and we're honored to receive this recognition from a trusted travel source like Lonely Planet," said George Applegate, executive director of BIVB. "Those who have been here know about our incredible diversity, from relaxing at the spa to ziplining over a 200 foot waterfall. For those who are planning their first visit to Hawai'i Island, we look forward to welcoming you."
Lonely Planet's Top 10 U.S. Destinations list is published annually in December. Destinations were chosen for their new, interesting, up-and-coming or undiscovered qualities. Rounding out the top 10 list were the U.S. Virgin Islands, Hudson River Valley (New York), Cincinnati (Ohio), Four Corners Region (Southwest USA), Culebra (Puerto Rico), California Gold Country, Boulder (Colorado), Chicago (Illinois), and Yellowstone National Park.
For more information about Hawai'i, the Big Island or to start planning your vacation, visit BigIsland.org or call 1-800-GOHAWAII.
About Lonely Planet
Lonely Planet is the world's leading travel content provider. Started in 1973, Lonely Planet enables curious travelers to experience the world and get to the heart of a place via guidebooks to every destination on the planet, an award-winning website, a suite of mobile and digital travel products and a dedicated traveler community. Visithttp://www.lonelyplanet.com.