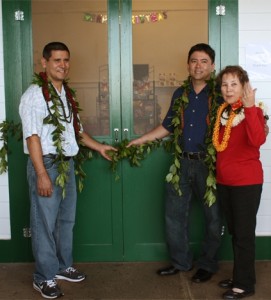 Media release from Kamehameha Schools:
Pa'auilo, Hawai'i: Three generations of Saito family members gathered together with community residents and well-wishers to celebrate the opening of the new Pa'auilo Store. A crowd of over 100 people enjoyed the blessing and heard congratulatory messages from the Hawai'i State Senate and County Council.
The original plantation store, a community landmark, opened in 1949 with partners Torao Saito and Pedro Eugenio at the helm. Torao ran the store and Pedro ran the meat market.
Sugar, once the economic heartbeat along this verdant Hāmākua Coast, began transitioning in the early 1970s and Torao's son, Earl, transformed the business in 1972 with the opening of Earl's Snack Shop.
Earl's sons, Mark and Miles and their families, have furthered the expansion with the more recent addition of catering and lunch wagon services along with a second location in Kamuela. Miles Saito thanked the crowd, "Not only do we thank you for today, but for your support over the past 62 years. We've enjoyed serving the community."
Marissa Harman and Sydney Keliipuleole, Land Asset Manager and Land Assets Division Director of Operations with Kamehameha Schools, worked with the Saito family to relocate Pa'auilo Store into newly renovated retail space that once housed Hāmākua Sugar's Industrial Relations. With the close of the Hāmākua Sugar Company in 1994, Kamehameha Schools acquired roughly 32,000 acres of land along the Hāmākua Coast, which includes the storefronts at Pa'auilo. Kamehameha Schools is committed to making agricultural lands available for diversified agriculture and supporting the local grass-fed beef and forestry industry in East Hawai'i.
Miriam Saito, Earl's widow, continues her work at the new Pa'auilo Store. Between the wooden shelves stocked with sundry goods – from candy to canned goods and cooking oil to motor oil – she is happy to share a memory or two with store patrons. In fact, one of the store's side rooms captures the memories of the past 62 years in family photographs.
While it may be new, Pa'auilo Store, located about 30 yards from the original site, still welcomes customers with small-town hospitality. Stop in at the new Pa'auilo Store, enjoy a trademarked Ono Bento Roll and settle in on the bench on the front lānai. As Pedro's widow, the spry 89-year-old Rose Eugenio, said following the store's blessing, "Pa'auilo is the place where everybody knows everybody and we're still family."
Kamehameha Schools is a private, educational, charitable trust founded and endowed by the legacy of Princess Bernice Pauahi Bishop. Kamehameha Schools operates a statewide educational system enrolling over 6,900 students of Hawaiian ancestry at K-12 campuses on O'ahu, Maui and Hawai'i and 31 preschool sites statewide. Over 40,000 additional Hawaiian learners and caregivers are served each year through a range of other Kamehameha Schools' outreach programs, community collaborations and financial aid opportunities in Hawai'i and across the continental United States.