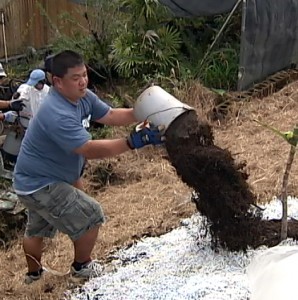 By David Corrigan and Stephanie Salazar
[Video by David Corrigan]
HILO, Hawaii: Monday was the Martin Luther King Jr. federal holiday… that means all federal, state and county offices were closed.
Public and private schools were also closed on Hawaii Island, but that doesn't mean they were empty.
Here at Waiakea High School, physicians and staff members with Kaiser Permanente joined students, teachers, and members of the Hawaii Island School Garden Network, to refurbish the school's garden.
Its become an annual ritual for these Kaiser employees, volunteering where they are needed at schools around the island… as you can see, its lots of work for a supposed day off.
Eight years ago, in honor and recognition of Dr. Martin Luther King, Jr. and his advancement of civil and human rights, Kaiser Permanente established an annual Day of Service that takes place on MLK Day.
Similar efforts were underway at Waimea Middle and Kahakai Elementary Schools.
Koby Kobayashi, Waiakea's teacher of what is now called the Natural Resources course, says this type of hands on education is important for the future of agriculture on the island.
Donna Mitts, with the Kohala Center's Hawaii Island School Garden Network, agrees…
The Day of Service was not just limited to professional adults. The youth played a big role in the day's work… for some, tending the school garden has become a passion that even a "day off" cannot obstruct.