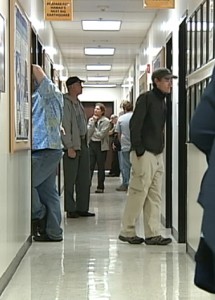 By David Corrigan and Stephanie Salazar
[Video by David Corrigan]
HAWAII VOLCANOES NATIONAL PARK, Hawaii: Sunday's series of minor earthquakes happened in roughly the same region where the day before, some of the United State's Geological Survey's top scientists were gathered in celebration.
This weekend was the official open house in honor of the 100th anniversary of the Hawaiian Volcano Observatory.
Thomas A. Jaggar, Jr., arrived on Kilauea and took over the continuous study of Hawaii's active volcanoes on January 17, 1912 — the date is often noted as the founding of HVO, America's first volcano observatory.
Located on the rim of the Kīlauea Volcano's summit caldera next to Jaggar Museum in Hawaii Volcanoes National Park, the observatory is usually closed to the public.
But on January 21, the observatory was open for public tours, with special exhibits and demonstrations. The National Park Service granted free admission to the park in honor of the obervatory's centennial.
Strong wind gusts blustered during the opening remarks, as dignitaries from across the country paid homage to the work done by observatory geologists, past and present…
Then, once the maile lei was untied, it was time for the tour.
Scientists showed the public around the numerous rooms where computers and seismic equipment monitor the active volcano every minute of the day.
The public even got a chance to see the view from above… a look out over the caldera from the observation tower.
The U.S. Department of the Interior Assistant Secretary for Water & Science, Anne Castle, was on hand for the day's events. She spoke to Big Island Video News about the important resource that is the observatory.
It wasnt just scientists and curious adults getting into the centennial spirit. An HVO hosted a poster contest for Hawaii Island 4th grade students was also held. The Grand Prize poster, rendered by Waiakeawaena Elementary School student Jyron Young, as well as other winning posters were displayed at HVO's open house. Winning students were also honored on the same day, and given prizes for their work. All posters entered in the contest will be displayed at KTA stores in Hilo, Kamuela, and Kailua until February 10.