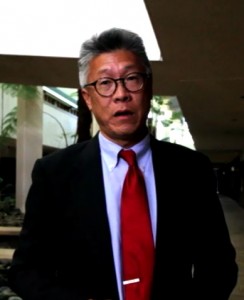 By David Corrigan, Stephanie Salazar and Baron Sekiya
[Ted Hong video courtesy Baron Sekiya, Hawaii247.com]
HILO, Hawaii: A prominent Hilo attorney is now representing two county Elections Office workers who claim they were wrongfully terminated.
Ted Hong held a press conference at the Hilo county building on Friday, saying that two of the four fired county employees will file their initial claims against the County of Hawaii.
"An inexperienced county clerk," Hong read from a statement, "unfamiliar with civil service law or collective bargaining agreements, acting like she was  the Queen of Hearts in Alice in Wonderland, pointing to my clients and shouting 'off with their heads'!"
The terminations are reportedly in connection to what has been described as a warehouse scandal, first reported on by Stephens Media newspapers.
The 2,000-square-foot warehouse located at 210 Makaala Street is supposed to store voting equipment. However, the building was allegedly also used to house a sign-printing business and store alcohol.
The terminations include Pat Nakamoto, the elections program administrator, and three other employees: warehouse manager Glen Shikuma; Shyla Ayau; and Elton Nakagawa… according to a follow up article by Jason Armstrong published in the paper.
In July, Council chair Dominic Yagong and County Clerk Jamae Kawauchi – heads of the Legislative branch that oversees the elections program – ordered the locks changed and an investigation be conducted.
The termination notices reportedly went out a few weeks ago.
Hong says his clients, elections administrator Patricia Nakamoto and Glen Shikuma, will be claiming damages in the amount $500,000.
The Hawaii County Charter requires the employees to file a claim with the County Clerk's office before they can file their lawsuit in the Circuit Court in Hilo.
During the press conference, Hong addressed some of the alleged details surrounding the scandal, like the use of and storage of alcohol at the location. Hong also addressed the allegation that the warehouse was being used for a private sign making business by Shikuma.
The county's legislative branch has been quiet as far as details concerning the termination may go. We recently asked Council Chair Dominic Yagong – who sits as the head of the legislative branch – about the firings during the announcement of his bid for mayor.
When asked about the possible motivations behind the terminations, Hong had this response.
"I think the reasons for the terminations will be pretty apparent by the people they appoint to the positions after my clients. If these are all people connected to or tied to certain politicians on the County Council than I think its relatively obvious."