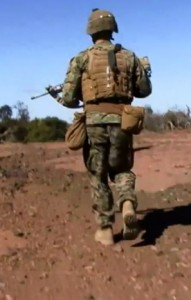 By David Corrigan and Stephanie Salazar
[Video courtesy Lance Cpl. Robert Bush, U.S. Marines]
POHAKULOA TRAINING AREA, Hawaii: Pohakuloa was recently the host to this aptly named "Lava Viper" training exercise conducted by the U.S. Marines.
This first-person video, shot by Lance Cpl. Robert Bush and uploaded to YouTube on January 13th, shows U.S. Marines with the 2nd Battalion, 3rd Marine Regiment conducting a live hand grenade range at PTA.
Lava Viper is a battalion level combined arms training exercise to better prepare Marines for upcoming deployments.
The marine have been busy over the last few weeks at Pohakuloa Training Area… shooting high explosive rounds, smoke rounds, and 155mm illumination rounds … many of which were visible from Saddle Road.