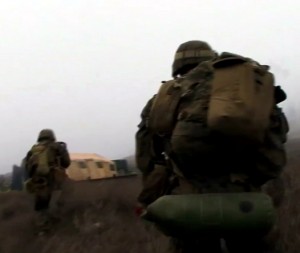 By David Corrigan and Stephanie Salazar
[Video courtesy the White House and U.S. Marine Corps video by Lance Cpl. Robert Bush]
POHAKULOA, Hawaii: Meanwhile, in Obama's State of the Union speech… the focus healing the economy took some of the spotlight away from the mention of decreased military spending.
The AP was reporting on Wednesday that The U.S. Army plans to slash the number of combat brigades from 45 to as low as 32 in a broad restructuring.
The Defense Department must come up with $487 billion in savings over the next decade, as order by Congress.
However, military officials have time and again stressed the importance of the Pacific – and Hawaii – to U.S. military interests.
That means training sessions like Lava Viper here at Pohakuloa will continue into the foreseeable future.
This footage, filmed on January 19th, shows U.S. Marines with the 2nd Battalion, 3rd Marine Regiment moving to a notional enemy position during the Lava Viper exercise at the Pohakuloa Training Area.
The troops trudge and scramble in formation over the rugged terrain taking aim at targets.
If you listen closely, you can hear the troops make mention of the precautions being taken to make sure the endangered Hawaiian nene goose are not harmed during the exercises.
Lava Viper is a battalion level combined arms training exercise to better prepare Marines for upcoming deployments.