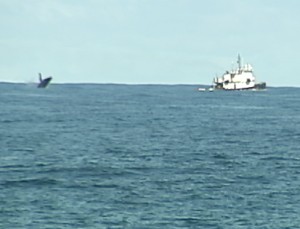 By David Corrigan and Stephanie Salazar
[Video by David Corrigan]
HILO, Hawaii: A crowd was out along the shore in Keaukaha on Saturday, watching the waters for Humpback Whales.
It was the kick-off of the 2012 Sanctuary Ocean Count, and there were plenty of volunteers here at Onekahakaha Beach Park.
And there was some action, out in the distance on Hilo Bay.
The Sanctuary Ocean Count project offers the community a chance to monitor humpback whales from the shores of O`ahu, Hawaii and Kauai. The count is held the last Saturday of January, February, and March – during peak whale season – from 8:00 a.m. to 12:15 p.m.
The enjoyable day at the beach helps to provide important population and distribution information on humpback whales around the Hawaiian Islands.