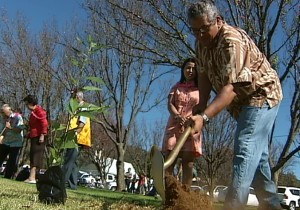 Three Hawaii Island paniolo legends honored
Video by David Corrigan, voice of Stephanie Salazar
WAIMEA, Hawaii: Thousands were drawn to the north side of the island for the 19th annual Waimea Cherry Blossom Heritage Festival on Saturday.
Organized by members of the upcountry community and Hawaii County's Department of Parks and Recreation, the festival marks the blooming of the historic cherry trees at Church Row Park and celebrates the age-old Japanese tradition of hanami, which translates to "cherry blossom viewing party." After a seasonal winter chill, the trees typically are blooming in February.
This year's festival holds a special distinction… it is part of the nationwide 100-year anniversary of the 1912 planting of cherry trees along the Potomac River in Washington D.C.
The Japan-U.S. Cherry Blossom Centennial celebration features the planting of cherry trees across the nation as a continued symbol of friendship between the two countries.
Yoshihiko Kamo, Consul General of Japan in Honolulu, was on hand for the event, as was Dr. Tetsuo Koyama, director of the Kochi Prefectural Makino Botanical Garden.
Using seeds presented from the Embassy of Japan that are especially suited to Hawaii's climate, seedlings were cultivated last fall for planting at the festival.
One seedling, Cerasus jamasakura Cv. Sendaiya, was ceremoniously planted 10:30 a.m. in Church Row Park by a number of officials and dignitaries.
Also helping with the tree planting: Hawaii County Mayor Billy Kenoi, who had a busy day at the festival… not only planting cherry seedlings, but also pounding mochi, with the assistance of Kona Hongwanji Mission outside the Fireside Food Court, and joining his wife Takako during a bon dance at the Festival Entertainment Stage.
It was at the Festival Entertainment Stage where a trio of paniolo were commemorated: Charles T. Kimura, Charles T. Onaka and Jamie Dowsett.
The Waimea Cherry Blossom Heritage Festival is produced by the Hawai'i County Parks and Recreation Department. Overseen by the park's culture education administrator, Roxcie Waltjen, the festival is a community-wide effort by a dedicated team of volunteers